SOME THINGS OLD, SOME THINGS NEW, SOME THINGS REVISITED, SOME THINGS JAZZY, CLASSICAL, AND BLUES.
(And a couple of books thrown in for good measure.)
DON'T FEAR THE REAPER
My year started in exciting fashion as on Monday January the 10th. I made a cross-country 12-hour bus trip from Cha Am to Phuket with BOWIE'S new album 'Blackstar' rumbling round my brain.
January is the middle of the Thai 'winter' so I'd had to dig out my one and only pair of jeans for the air-conditioned bus ride through the Thai night.
Arriving at 4pm I was surprised at how much hotter it was in Phuket and hurriedly changed back into my usual attire of shorts and t-shirt and waited in the blistering heat happily humming 'that' title track.
Collected by my Bowie-loving young (ish) American friend on his battered 125cc Honda Wave we managed to negotiate the LA-like traffic and smog back to his place and as I relaxed in his air-conditioned lounge slowly stretching the bus out of my old legs I asked if he'd heard the new album.
Without waiting for his reply I rambled on about how good it was and how I'd spent the weekend playing it over and over again because 'it just kept getting better the more I listened to it………'
When I finally shut up he told me the news which I refused to believe as he, like myself, has an occasionally skewed sense of humour. I watched in disbelief as he fired up my computer and showed me.
Right then and there the air-conditioning became redundant as a chill crept through me and lodged in my bones as I sat stunned trying to assimilate the information.
I'd grown up with Bowie but had only really connected with him when I saw him live in Calgary 2004 shortly before his heart attack. The show was incendiary and he was the embodiment of a rock legend.
The weekend with Blackstar had ignited a renewed passion for the man and his music that had lain dormant for years.
And now he was gone!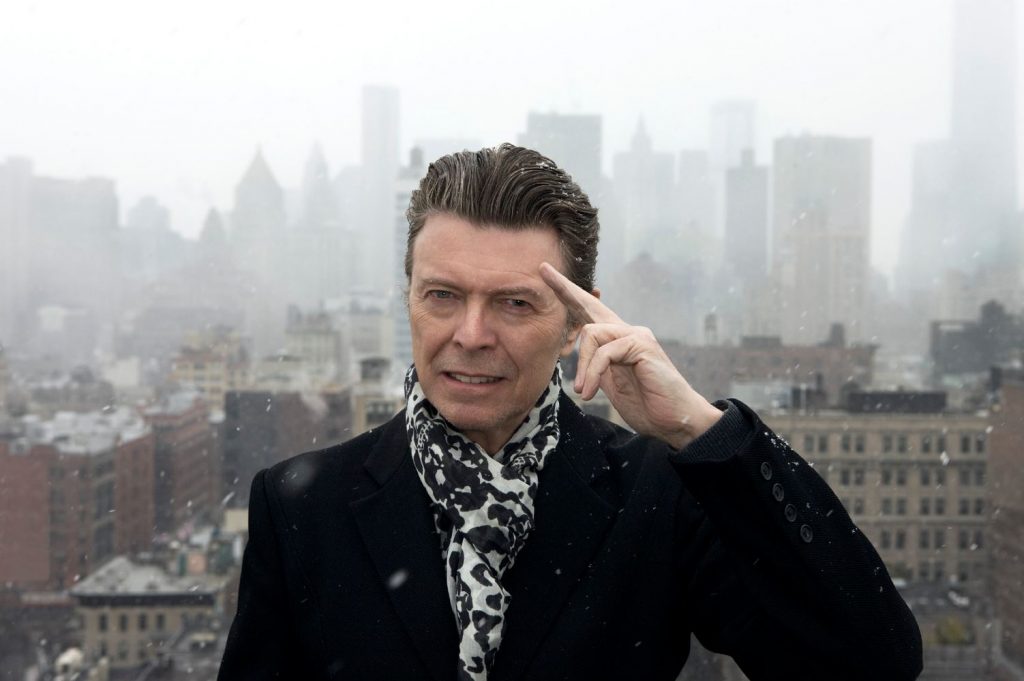 The rest of the evening was spent in a disbelieving haze as we poured ourselves another phone and time-traveled from Major Tom to Ziggy, Aladdin, The Jean Genie and the Thin White Duke; the pair of us sorrowfully sighing like Twig the Wonder Kid as we held our own crash course for ravers certain that we really loved him while freaking out in our own middle-aged nightmare.
Little did we know he'd stage-managed his death in one last act of consummate artistry.
Little did we know it was the beginning of so many endings.
January 10, 2016, was the day the reaper set his scythe swinging for what will be a continuing grim trend for musicians from Rock's golden age.
Dylan, McCartney, Mitchell, Jagger, Richards, Wonder, Simon and so on are all in their mid-70's and must be grateful for every day they wake up.
So, let's enjoy them  while we can and hope that the passing of this generation of creative giants allows other generations to discover and love Bowie and his ilk in the same way we still love Beethoven, Coltrane, Elvis and all the other music colossi whose timeless genius continues to resonate years, decades and centuries after they've gone.
ROCK AGAINST CANCER – THAI STYLE
My Thai musical landscape was also touched by the death of an icon this year.
In 1994 WASIT MUKJAVIDITR was responsible for what is generally acknowledged to be the first Thai alt. rock album 'VIEW' and in the process gave birth to the Thai alt. rock scene itself.
Here's the story of my one and only meeting with him.
A privilege I will always hold dear.
The entertainment complex that is JatuJak Market was recently home to a very special event as the Bangkok Alt. Rock scene united to pay homage to one of its heroes, Wasit Mukdavijitr.
" Wozzer" was the founding member, lead singer and songwriter of DAY TRIPPER the first Thai rock band to write and perform some of their songs in English, many in Bangkok credit him with starting a scene that is now an established part of the city's musical landscape.
(The handsome fella in the middle is the Woz-man.)
Since being diagnosed with lymphoma Wozzer had attempted to raise awareness of cancer and this was the second gig he'd helped stage.
I arrived at LIVE HOUSE AT JATUJAK GREEN to find him selling tickets and t-shirts at the front office. Everyone else was really hoping to see him perform, I was just happy to meet this gentle poetic soul for the first time having spent several weeks swapping tunes on Facebook.
The club was little more than a warehouse, a generic square breeze-block and corrugated iron box with a large stage at one end and a bar running half the length of one wall. The rest of the space was populated with 2-300 souls of mixed age, gender and dress.
4 bands provided the entertainment including pummeling alt.grunge courtesy of 3 tattooed Thai teenage guys in gingham dresses, and a demure Thai girl whispering dream-pop in a Mazzy Star vein fronting a band called 'My Life as Ali Thomas'.
Just as we'd given up on him, Wozzer  was helped on stage where he clung to the mic stand and waited for the ovation to stop. A single song later the exhausted, chemo-bloated icon bid his adoring crowd farewell, the love in the air tangible as one distraught fan bleated plaintively in Thai:
"Doan die"
Soon after this special event this special man did just that.
Fortunately for us his music never will.
MAN WHO WALKS AMONG THE STARS – A TRULY CANADIAN 'STAR'
It's a baking hot July day in Cha Am, temperature hovering around the 40 mark. I'm hiding inside wrapped in a heat-induced lethargy and I'm missing Canada.
Missing the Alberta Rockies, the fresh mountain air, the BIG sky.
I sought out Bobcaygeon on YT and as I watched the video felt tears welling as a typical Canadian scene unfolded before my eyes and I longed for my Canadian 'home.'
A couple of hours later and tears were falling as I discovered the news about Gord Downie. There were definitely some residual for David, Wozzer, Frey, White and Prince too.
By now it was all getting a bit much……………….
Fast forward to the 20th of August and I'm on You Tube sobbing like a baby as a silver-clad dying man celebrates his, music, country and life with hundreds of thousands of his closest friends either in the Hamilton auditorium, on CBC or like myself in Thailand, online.
Since then he's released a haunting solo album, 'Secret Path', and an accompanying graphic novel detailing the plight of Canada's indigenous people which led to the bestowal of the name at the top of this piece. A richly deserved honour and a fitting epitaph to a life of questing creation conducted with integrity and modesty.
As I write this with less than 30 days until the end of this strangest of years, I wonder whether he'll make it through or if he too is doing a Bowie.
But, of course, he's actually doing a Downie and he too is a true starman.
SOME THINGS OLD
Losses aside it was a fascinating year for me personally as I finally had both the time and inclination to discover some of the greatest artists of the rock era that I'd previously had neither time or inclination to investigate.
P.J.Harvey, Nick Cave & the Bad Seeds, Tom Waits, The Smiths, The Fall,  XTC, Paul Simon,  De La Soul and even The Stones finally came under my musical microscope and made me grateful that I'd not got into them before because, boy, what a treat it was to discover them all and finally fall under their respective spells. Of course I'd always been aware of them and had dabbled but I'd never investigated.
I can only recommend you do the same.
If you're not already spellbound, of course.
I had time too, to discover some cult artists that had flown under or around my radar for differing periods of time, or had simply been beyond my pocket when they'd first surfaced.
Talk Talk, Vashti  Bunyan , Michael Chapman, Terry Reid, Harmonia, The Associates, and The Long Ryders all impressed . The list only stops there as I need some dry powder for future musings, but it's always a pleasure finding art that transcends its own era and the aforementioned certainly achieve that. Neither fashionable nor particularly famous all are worth your time investigating as their gifts are manifold and keep on giving.
SOME GREAT ALBUMS RELEASED BY ESTABLISHED ARTISTS IN 2016
P.J. HARVEY – THE HOPE SIX DEMOLITION PROJECT
TEENAGE FANCLUB – HERE
WILCO – SCHMILCO
THE MONKEES  – GOOD TIMES
PAUL SIMON – STRANGER TO STRANGER
IGGY POP – POST POP DEPRESSION
ROKIA TRAORE – NE SO
CEU – TROPIX
NICK CAVE & THE BAD SEEDS –SKELETON TREE
DE LA SOUL – AND THE ANONYMOUS NOBODY
DAVID CROSBY – LIGHTHOUSE
(There's more but you have to draw the line somewhere and I'm drawing it here.)
SOME THINGS NEW
2016 AT RUTLAND TOWERS SEEMS TO HAVE BEEN A FEMALE SINGER/SONGWRITER AND AMERICANA DOMINATED YEAR.
I put this down to my propensity for and love of words and stories.
I would appear to be swimming against the tide. Again.
(Cue favourite old COLIN HAY track that I used to cover with my POPULAR BEAT COMBO 10 years or so ago.)
(I've said it before and I'll say it again. I'm a triple-gatefold album in an MP3 world.)
JOAN SHELLEY, ANGEL OLSEN, MARISSA NADLER, LAURA GIBSON, NADIA REID (superb new folkie from New Zealand) and HALEY BONAR were among those constantly revisited and appreciated for their writing chops and abilities  at creating unique musical atmospheres.
As for the guys; Wilco's Schmilco is a delightful late addition to the slate of Americana albums I enjoyed which included The Jayhawks, Richmond Fontaine, and Grant Lee Phillips.
The latter's The Narrows is a typical example of these craftsmen reaching elder-statesmanship and arguably creative peaks. Masterclasses in songwriting, storytelling and musicianship there's nothing new here just fine modern day troubadours doing their timeless thing, each in their own way.
I should add this is not a genre I've paid too much attention to previously.
Could it be an age thing?
SOME MORE NEW THINGS
HERON OBLIVION a 'psych-folk supergroup' from San Francisco delivered a debut album that was a powerful and beguiling mix of quiet- loud sonic acid trips.
Swedish crazy-costume-wearing psych-collective GOAT have recently dropped their latest disc 'Requiem." They're claiming it's their 'folk' album but English is hardly their first language, know what I'm saying?
MATTHEW PRITCHARD'S  electronic offering delighted and mesmerized with Thom Yorke's guest spot proving the popular highlight.
Previously an Irish folk singer JAMES VINCENT McMORROW completed his own personal metamorphosis into a soul singer with the groove-y, hook-ridden collection "We Move."
GORD DOWNIE and JIM JAMES delivered a couple of beauts as the year wound down. Both strong on melody, Downie's perhaps surprisingly so given the nature of the subject matter. 'Secret Path' is a varied collection of melodies and messages inhabited and adorned by Gord's unmistakable and impassioned delivery.
James meanwhile really channelled his inner Al Green with often delightful results. A surprisingly soulful record that beguiles and hypnotizes in equal measure 'Eternal Even' demands listening to as a single entity. In other words, it's a good old fashioned 'album'.  Spooky, swirling keyboards and repeated motifs are the order of the day as James spikes his soul with Psychedaelia in a hypnotizing moody mix that punches its weight with ease.
PIERS FACCINI, 'I Dreamed an Island' is a world album full of charm and variety.
Natural and organic are the words that sprung to mind when I joined his sonic sojourn sung in several languages, played on instruments contemporary and ancient. A voice vaguely reminiscent of a smoky Peter Gabriel or Antony  Hegarty/ Ahnoni in places, complements the organic nature of the melody's and their subject matter.
A musical travelogue of the best kind it changes tack, tempo and mood regularly demanding your attention and rewarding you with a set of songs that engage and entertain and had me searching out his previous work.
A short list of artists I need more time to hear more of:
Max Jury/ Car Seat Headrest/ Dan Michaelson and the Coastguards,  case/laing/veirs, The Julie Ruin – the inspirational Kathleen Hanna's invigorating reinvention. Ed Harcourt, Wild Beasts, William Tyler, Field Music, Woodpigeon, Christine & the Queens, King Creosote, The Lemon Twigs, Whitney, Solange  Frank Ocean and so on ad infinitum.
SOME THINGS JAZZY, CLASSICAL AND BLUE(S)
Recently I discovered a piece by my favourite classical composer Jean Sibelius. I've been a fan for over 20 years now and thought I knew all his work but I stumbled across the hour-long Korrella suite a few days ago and have since spent many enjoyable hours in its dramatic operatic company.
Even more recently I discovered a couple of great pieces by the minimalist composers JOHN ADAMS and STEVE REICH.
'Shaker Loops' and 'The Desert Music' respectively, shimmer, shake and hypnotize. They reminded me what a spirit of aural adventure can help you discover and love.
New jazz has been a bit light on the ground for me this year so I was delighted to make late discoveries of the new DONNY McCASLIN (Bowie's Blackstar aide-de-camp) WOLFGANG MUTHSPIEL and DINOSAUR to join the Gregory Porter I'd found earlier in the year.
McCASLIN's newest album 'Beyond Now' is a Bowie tribute steeped in 70's fusion sounds, post-rock , free jazz and electronica.
MUTHSPIEL's 'Rising Grace' on the ECM label has some wonderful moments but my jury's still out on the album as a whole. It's certainly a delight in places and has 3 strong opening tracks that grab your attention and possibly set the bar too high for what follows. Let's see, we all know it's often the slow burners that end up burning the longest and the brightest.
Which was certainly the case this morning when I listened to the album again and found it definitely heating up.
A young quartet from the UK with a freshness and modernity that will appeal to young jazz hipsters and dyed-in-the-wool jazz lovers alike, DINOSAUR's recently released 'Together as One' features some wonderful ensemble playing and plenty of interesting ideas that you feel old heroes like Davis and Brubek would have admired. Although ostensibly led by trumpet and synth whiz-kid Laura Jurd, she's sympathetic to her band mates and allows them all space and time to add to the album's palette.
Jazz for 2016 without a doubt.
THE JAMES HUNTER SIX proved once again that Sam Cooke is alive and well! He's just inhabited the body of a short white guy from Colchester in the South East of England! 'Hold On' featured their usual mix of classic early soul and toe-tapping r'n'b and cemented James' position as England's number one 'soul' singer.
Nick Waterhouse an in-demand producer in his own right, did the same for white-boy r'n'b originating out of LA. If you don't believe me check out this collaboration with Leon Bridges on the catchy Katchi. And then go discover his 2 previous albums, you won't be disappointed I assure you.
You know you've arrived as a blues artist when you sign to Alligator Records and that may be why Moreland & Arbuckle's incendiary debut for them is called "Promised Land". Delta blues don't get any more Mean & Evil than this:
AND FINALLY – BOOKS OF MY YEAR
ELVIS COSTELLO – UNFAITHFUL MUSIC AND DISAPPEARING INK
What a treat this door stop of a book is. As easy and quick to read as any Stephen King page-turner but way more poetic. This is a beautifully written  stylish labour of love that had me checking out his entire back catalogue and coming away astonished at the length and breadth of his output.
His voice is always going to be an acquired taste but there's no disputing his musicality or masterful lyricism. The book clearly demonstrates the awe in which he holds his hero's and peers and is filled with anecdotes, personal, heart-breaking and funny.  So much more than an autobiography, for anyone with a passing interest in the music of the last 50 years this is a MUST read.
JOHN LYDON'S – ANGER IS AN ENERGY & KEITH RICHARDS – LIFE
Both read as if you're sitting listening to them and reflect their respective personalities perfectly. Singular characters and talents once again their books demanded that I check out back catalogues and again neither disappointed.
Lydon's output and legacy may not match Keef and his band but it's a worthy, original and idiosyncratic collection possibly only now receiving the acclaim it deserves.
Reading his book leaves you breathless after a few chapters as he holds forth on anything and everything that entered his orbit or takes his fancy. His fierce intelligence jumps from the pages and entertains and exhausts in equal measure. It's like an attack from a literary pit bull. Fierce but fun and full of opinions and insights.
Keef's another natural raconteur and like Costello and Lydon is in thrall to music of all shapes, sizes and eras. Perhaps surprisingly strong in the opening sections depiction of life in post-war south London, like his guitar playing he's never less than entertaining and always worth listening to.
I often got the impression that he's bemused by his good fortune and his band's longevity but was left in no doubt about his passion and drive for creating music and keeping the Stones rolling.
So. Let's celebrate.
Those that have gone and those yet to come.
Despite 2016's clamouring clarion call that "rock is dead"; it's not and never will be.
Not as long there's ears to hear and pricks to kick against.
HAPPY NEW YEAR TO YOU AND YOURS and may 2017 be all you need it to be.
And if you haven't already done so, don't forget to check out my 10 albums of the year.
http://rreverb.com/author/gary-a-rutland/
RREVERB' year-end special section is right here. Check it out!
Réagissez à cet article / Comment this article
commentaires / comments